I scored this red polka-dot top from Anthropologie for $19.95. There's only one reason
anything
would be marked down that low in that store {even during the summer sale} and I discovered it today. One sleeve fits quite a bit more snug around the arm than the other. Either that or I have been working the heck out of my left arm lately. For twenty bucks, I'll deal with it just fine. :)
The denim shorts are from Loft and the Dansko sandals are from REI. I don't really ever accessorize as that just provides more places for sweat to pool. TMI?
Moving on.
Actually, I don't really have more to say.
You're off the hook.
This time.
Each week I formulate one outfit to share with the below blog link-ups.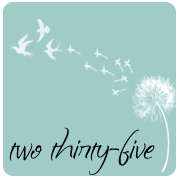 Did she seriously just use the word 'formulate'?